Giuria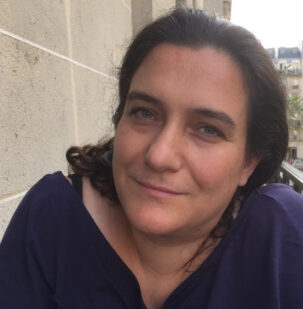 Tina Baz Le Gal
Editor
Born in Beirut, Tina Baz studied cinema in France at ESRA and the Sorbonne. She began her career as a director's intern with Maroun Bagdadi, then as an assistant to the editor Luc Barnier, with whom she worked for several years.
Settled in Paris, she embarked on her editing career, alternating between documentaries, feature films, shorts, TV series and art videos, both in France and abroad. There are, of course, Arab filmmakers, like the Lebanese filmmakers and artists Joana Hadjithomas and Khalil Joreige, whose work she has accompanied from La maison rose to their latest film Memory Box, in competition at the 2021 Berlin Festival, but also with Ziad Doueiri, the Palestinians Raed andoni and Hany Abu-Assad, and the Moroccan Leïla Kilani, whose Nos Lieux interdits, Sur la planche and the forthcoming Indivision she has edited. In Latin America, she collaborates with Brazilian director Petra Costa on Elena, Olmo and the Seagull and Edge of Democracy, nominated for the Best Documentary Oscar in 2019.
In Asia, she occasionally works with Johnnie To – Mad Detective – and his sidekick Wai Ka-fai, but Tina Baz is a faithful accomplice of Japanese filmmaker Naomi Kawase, whose films she has edited: The Mourning Forest, which won the Grand Prix at the Cannes Film Festival, Hanezu, Still the Water, Sweet beans, Radiance and True Mothers.
In France, she worked on several first features, such as La Faute à Voltaire by Abdellatif Kechiche, Ce que mes yeux ont vu by Laurent de Bartillat, Le Grand voyage by Ismaël Ferroukhi and Sparring by Samuel Jouy, as well as with more established directors such as Jean-Pierre Limosin and Ounie Lecomte, who entrusted her with the editing of, respectively, Young Yakuza and Je vous souhaite folie d'être aimée. She developed a close relationship with Olivier Peyon, whom she accompanied for Comment j'ai détesté les maths, Une vie ailleurs and Tokyo Shaking. She met Sébastien Lifshitz for Les Invisibles. They have continued their collaboration since then with Bambi, and especially Adolescentes. The film was awarded the Jury's "Coup de Coeur" at the Festival 2 Cinéma de Valenciennes in 2020, and its author won her second César for Best Documentary. Tina Baz also won the statuette for Best Editing, crowning her exceptional work on this work which follows the journey of two young girls from Brive-la-Gaillarde over five years.